We cannot assume that children will arrive in our classrooms well behaved and ready to learn. Small behavior issues can waste valuable teaching time and even build into confrontations. Learn a research-based, time-tested classroom management program that encourages, empowers, and promotes excellence. Stop negative behavior before it begins. Use class time for teaching — not correcting behaviors. This impossible dream is absolutely possible. Manage your classroom like a Rock Star with these 6 modules.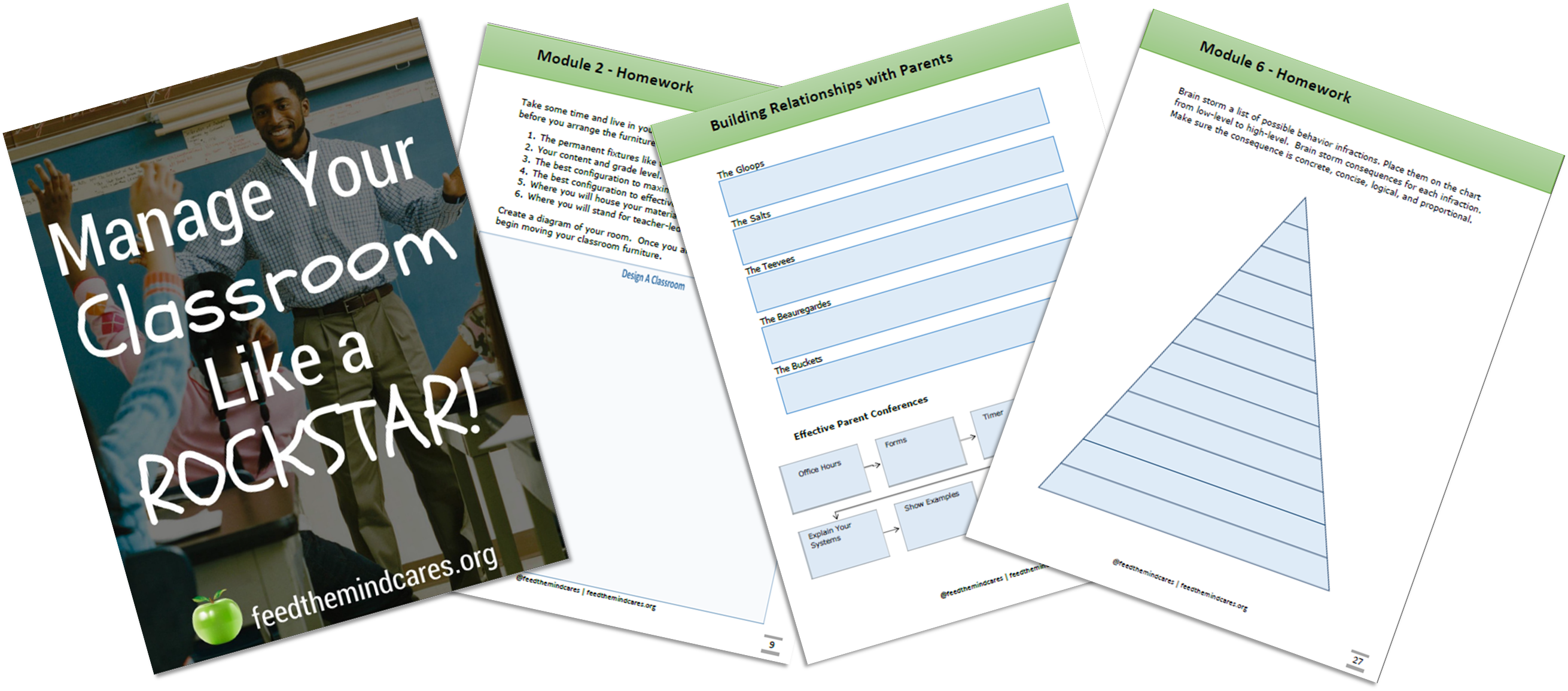 This course includes 6 modules.
Module 1 – Core Beliefs of Classroom Management. It is time for a paradigm shift. Throw away everything you think you know about classroom management. What what the top researchers in education are saying about the core beliefs of classroom management.
Module 2 – Classroom Ecology. Learn how classroom configurations and ecology can aid in managing your students. Let the lights, color, and music do the work for you. What am I talking about? Take the course to find out.
Module 3 – Teaching the Expectations. The most powerful tools you will give your students. You think because the child is in the 5th grade that he/she should "know" better. Ha! Don't fool yourself. Learn how to teach the students how to behave in your classroom.
Module 4 – Self-Control. Learn how to channel the coolest and calmest man on television. The roof is definitely on fire. It is all about how you respond to the fire.
Module 5 – Building Relationships. The students think you live in the school building. Learn to build appropriate relationships with students, parents, and your administrators. You can thank me later.

Module 6 – Effective Discipline Plan. Throw away the gimmicks that are not effective. Save your money and step away from the teacher store. Learn the very effective strategy to decrease problem behaviors without breaking the bank.
Testimonials
Our attendance of the seminar was timely. We just completed year three of PBIS implementation but seemed to be floundering in our efforts to cultivate relationships with students and teach expected behaviors. This presentation augmented our knowledge-base in these areas and resulted in a reaffirmation of why we chose teaching as our profession and the importance of retaining the respect for the individual during the learning/discipline process. – Karla Tiefenthaler, Superintendent, North Wood School
I have taught for 17 years and this training has opened my eyes on classroom management. – Denise Perham
Hello Kewanta. I really enjoyed the presentation at CAMT!!! Thank you for your infectious attitude!
– Veronica Orduno
Thank you so much for the training this morning. It was phenomenal. You definitely inspired me today and I will share your info with my cohorts in other districts, because they need to see you at work!!!
– Le'Shawn Foreman
I attended your Model, Lead, Test session and really enjoyed it! I am excited to start using these strategies in my classroom.
– Staci Darden
Your presentation was AWESOME! Thank you so much for all the positive energy.
– Carmen Gurrola